Wheelchair accessible bathroom sink spotlight
Meilong offers more than one wheelchair accessible bathroom sink to suit homeowners' style. But what exactly sets each sink apart from the others? Today, we share six of our company's wheelchair accessible bathroom sinks. All of them meet ADA Accessible Bathroom Requirements and are ADA Compliant.
2023-1-12 - Posted By Jason
So - what is a wheelchair accessible sink? Merely, wheelchair accessible sinks are bathroom washbasins that have been designed to accommodate users with disabilities or limited mobility. It should have the right height for a seated person and their knees can go under so that they can get as close as possible to the sink. The shape of the sink is also significant. The height of traditional pedestal sinks are a little too tall for a wheelchair user and also the shape and depth doesn't help someone that's sitting close to it.
And - what are ADA Accessible Bathroom Requirements? There are some requirements in terms of height and clearance, depth and faucets. In terms of height and clearance, for adult users, sink tops should be installed no higher than 34″ from the floor. In addition, there should be a space at least 29″ high, 30″ wide, and 25″ deep under the sink to accommodate knee room. These measurements reduce by about five inches for children. Finally, there must be a 30″ by 48″ cleared space around the sink. And the door to this space cannot be opened. In terms of depth, handicap wash basins should be no deeper than 6.5 inches. In terms of faucets, faucets should be turned on and off by lever, touch, push, or motion sensor. They should be operable with only one hand, and users shouldn't have to squeeze, grasp, or twist, or exert more than five pounds of pressure.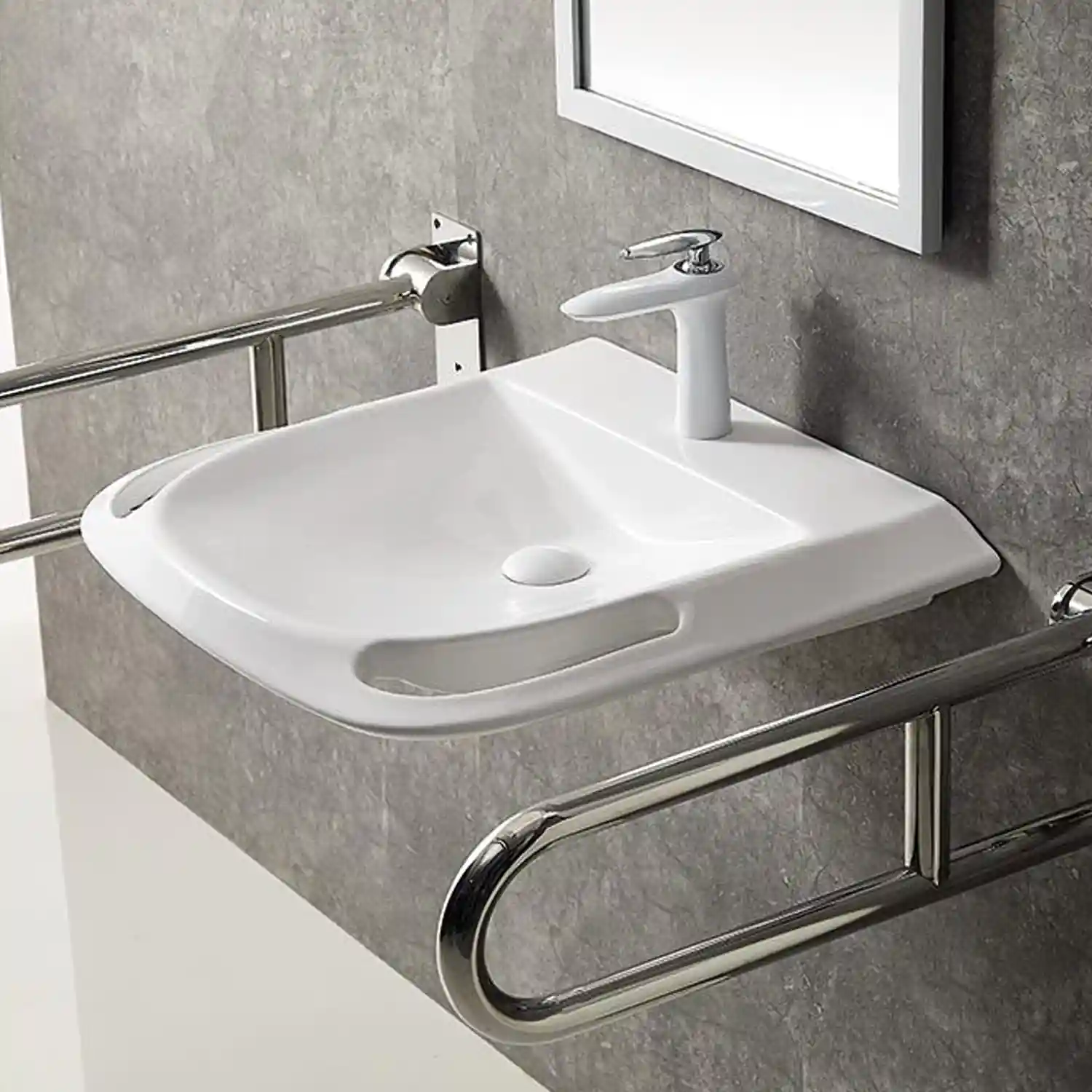 ML-4121 is a rectangular 24-inch ADA wall mounted sink with slim rim. Constructed from premium-quality ceramic, it is extremely reliable, providing a safe experience for every user. It is suitable for private houses and hotels, restaurants and public bathrooms. This ADA bathroom sink is designed with a concave front edge and open base which fully comply with the requirements of disabled bathrooms sinks. Featuring height adjustment and an open bottom design with handles on the edges, it is wheelchair friendly, allowing both wheelchair users and non-wheelchair users to freely use it.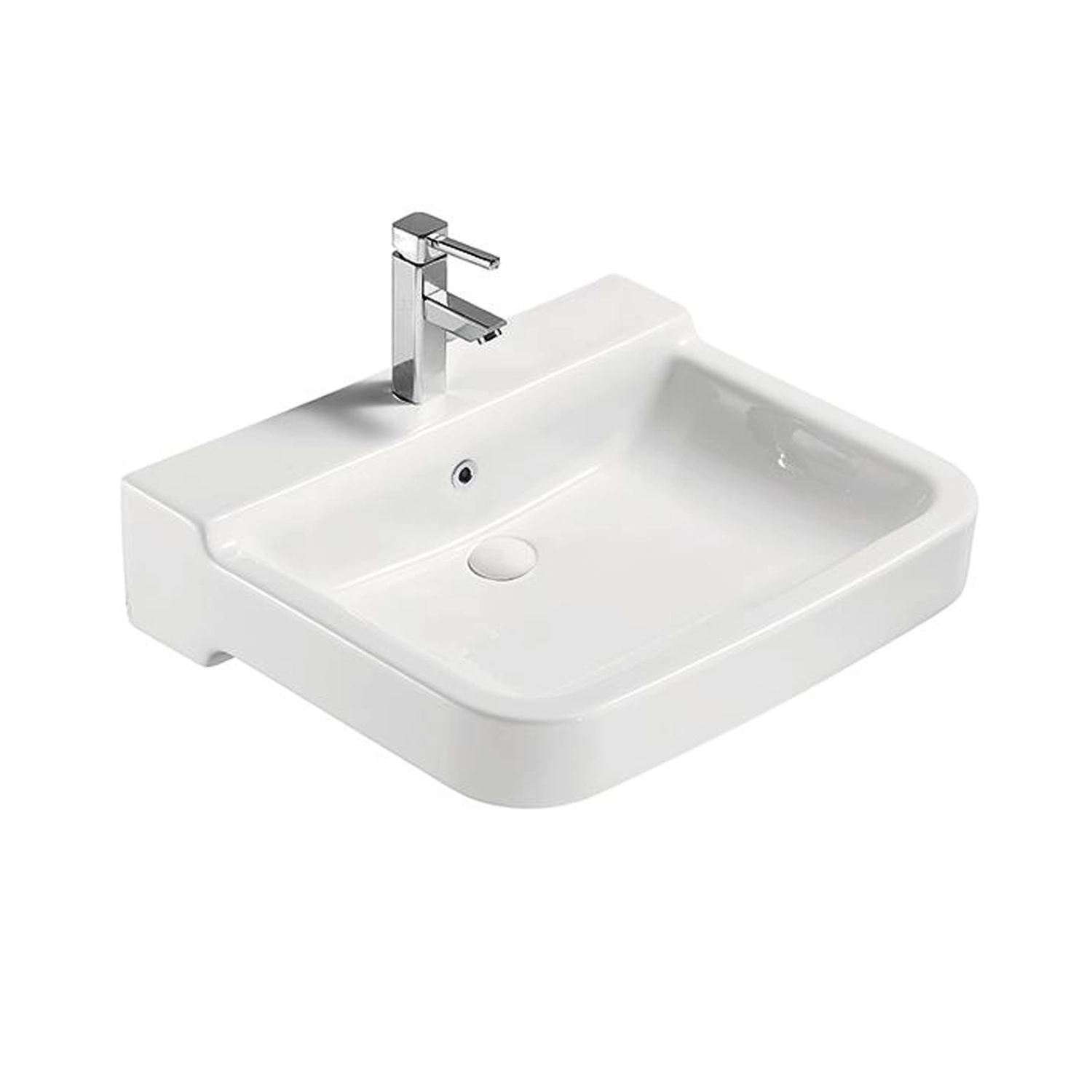 ML-4116 is a wheelchair ceramic bathroom sink with concave front edge, side elbow rests and open base. Made from premium materials that withstand high-volume usage and heavy offload, this 25 inch handicapped washbasin is an ideal choice for commercial and private applications. Combining adjustable sink height feature and open base design, this ada wall hung sink can also be used by non-wheelchair users. It includes a pre-drilled overflow and shallow basin which are both compliant with requirements of ADA barrier-free bathrooms.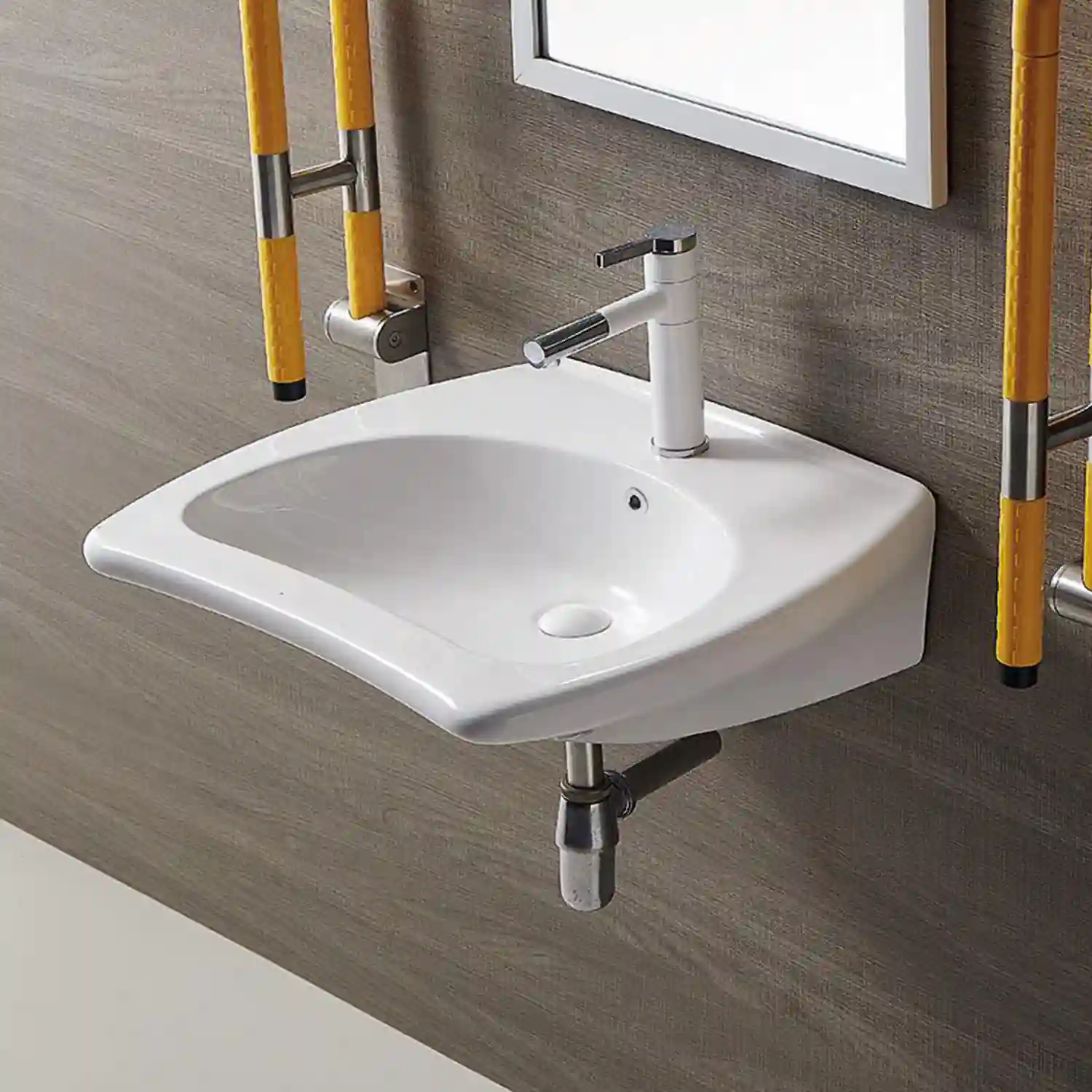 ML-4111 is a 23 inches wheelchair accessible wall-mounted sink in white color. Combining straight and curved edges with a thin-edged profile, it has a carefully planned open base ergonomic design. Made from top quality ceramics with a layer of self-clean nano-glaze, and fired under 1280 degrees Celsius of high temperature, this ada compliant wall mount sink is extremely durable and definitely reliable as it can withstand high-volume usage and heavy loads. Its surface is scratch and stain resistant and easy to clean and maintain. This wheelchair accessible wash basin for disabled can also be suitable and stylish for other users, therefore making it a perfect compliance for private or commercial bathroom settings.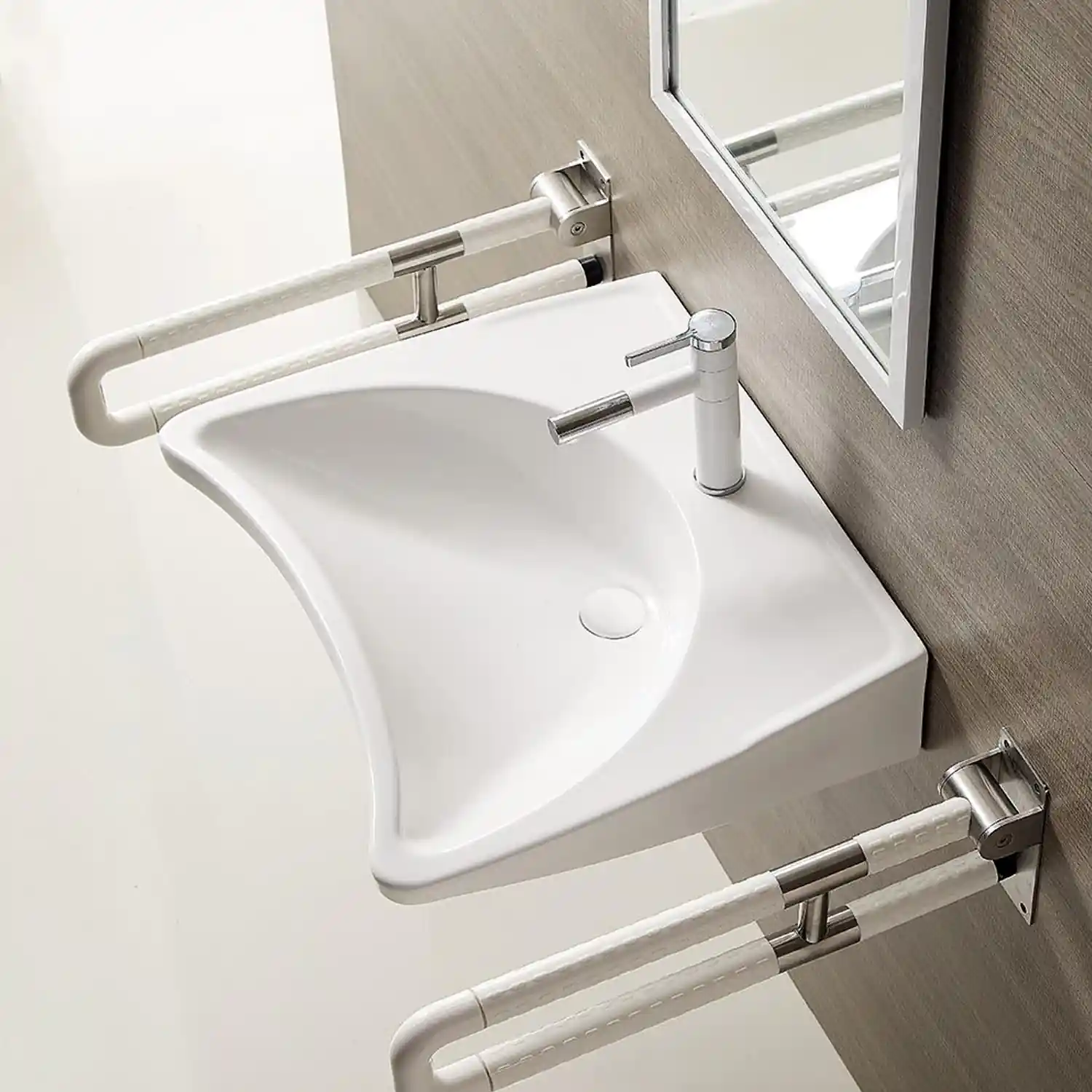 ML-4106 is a 25 inch wheelchair accessible wall-mounted sink. It is made of heavy-duty porcelain, a safe and durable bathroom material. It can be applied to private houses, hotels, restaurants and public bathrooms. The front edge of the disabled washing basin is concave. This bathroom porcelain sink features a pre-drilled faucet hole and a countertop for better usability. Compliant with any barrier-free bathroom settings.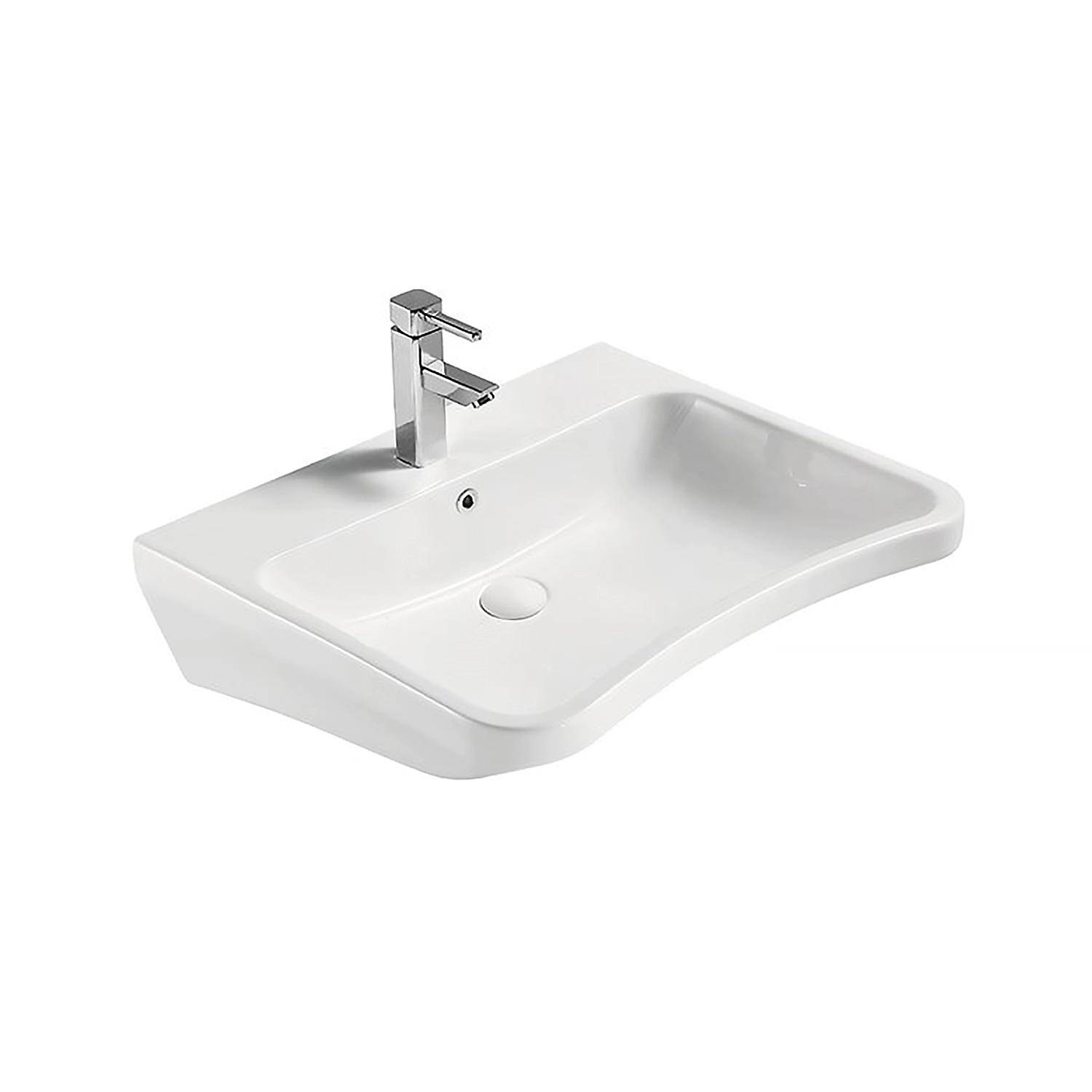 ML-4101 is a 25 inches handicapped wash basin in glossy white color. With durable and reliable ceramic construction, it provides safe using experience to everyone. This rectangle handicapped ada sink features a concave front edge and an empty bottom which are fully compliant with requirements of disabled bathrooms. With the height adjustment feature and open bottom design, this ada basin is friendly to people in wheelchairs and both wheelchair users and non-wheelchair users can use the facilities freely in both commercial and private environments.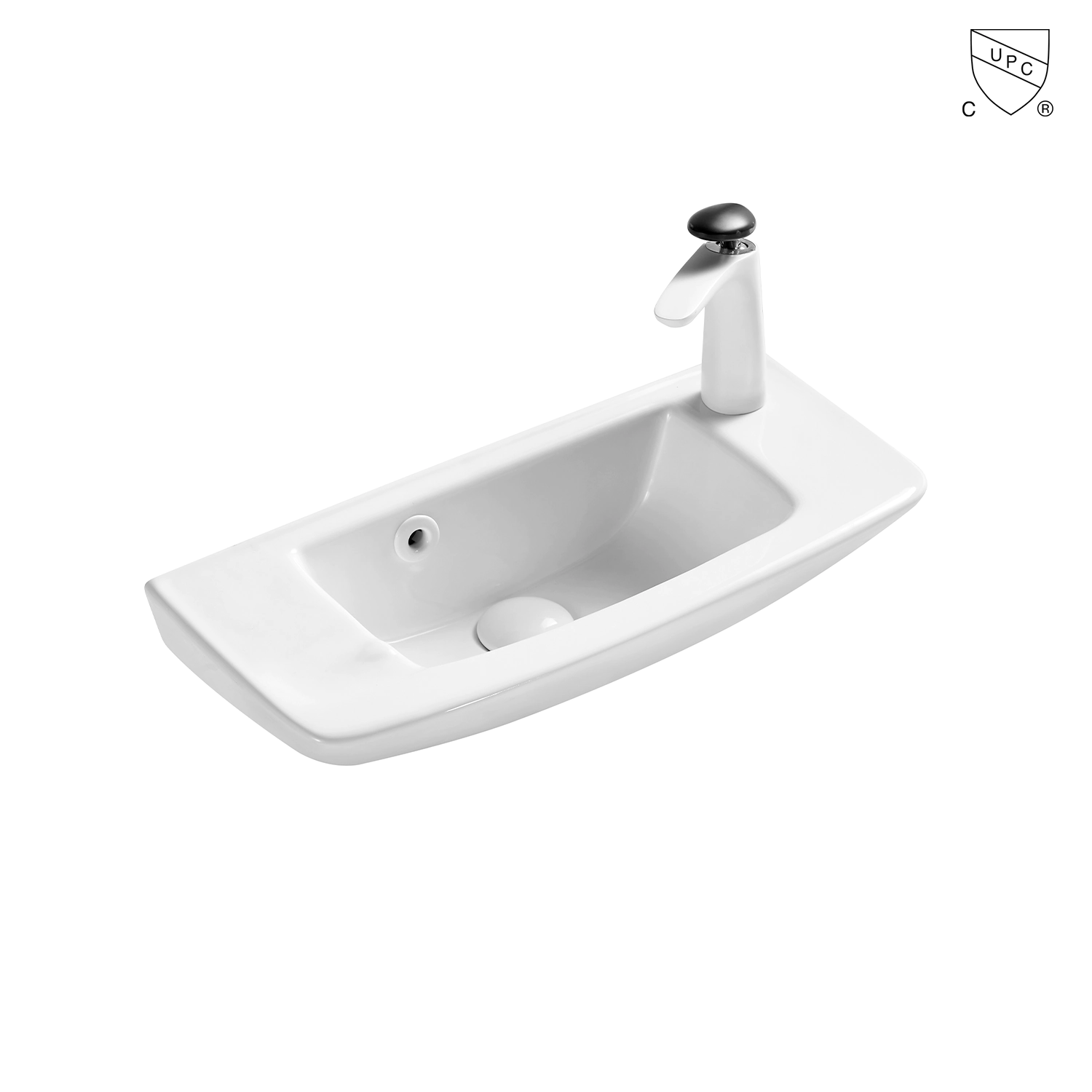 ML-2039 is a CUPC certified and ADA compliant wall mounted sink. Features clean and compact design, this 20-inch ada wall mounted sink is suitable for any style of bathroom decor and is perfect for bathrooms with space constraints. Integrated soap dish on the left side of the basin. This rectangular basin is constructed of long lasting ceramic with glassy white fine texture nano-glaze and it is built to last long and easy to clean. Pre-drilled overflow hole to prevent water from flooding the floor. Complete this look with the single hole faucet of your choice. Small size also makes it a child-friendly bathroom sink.