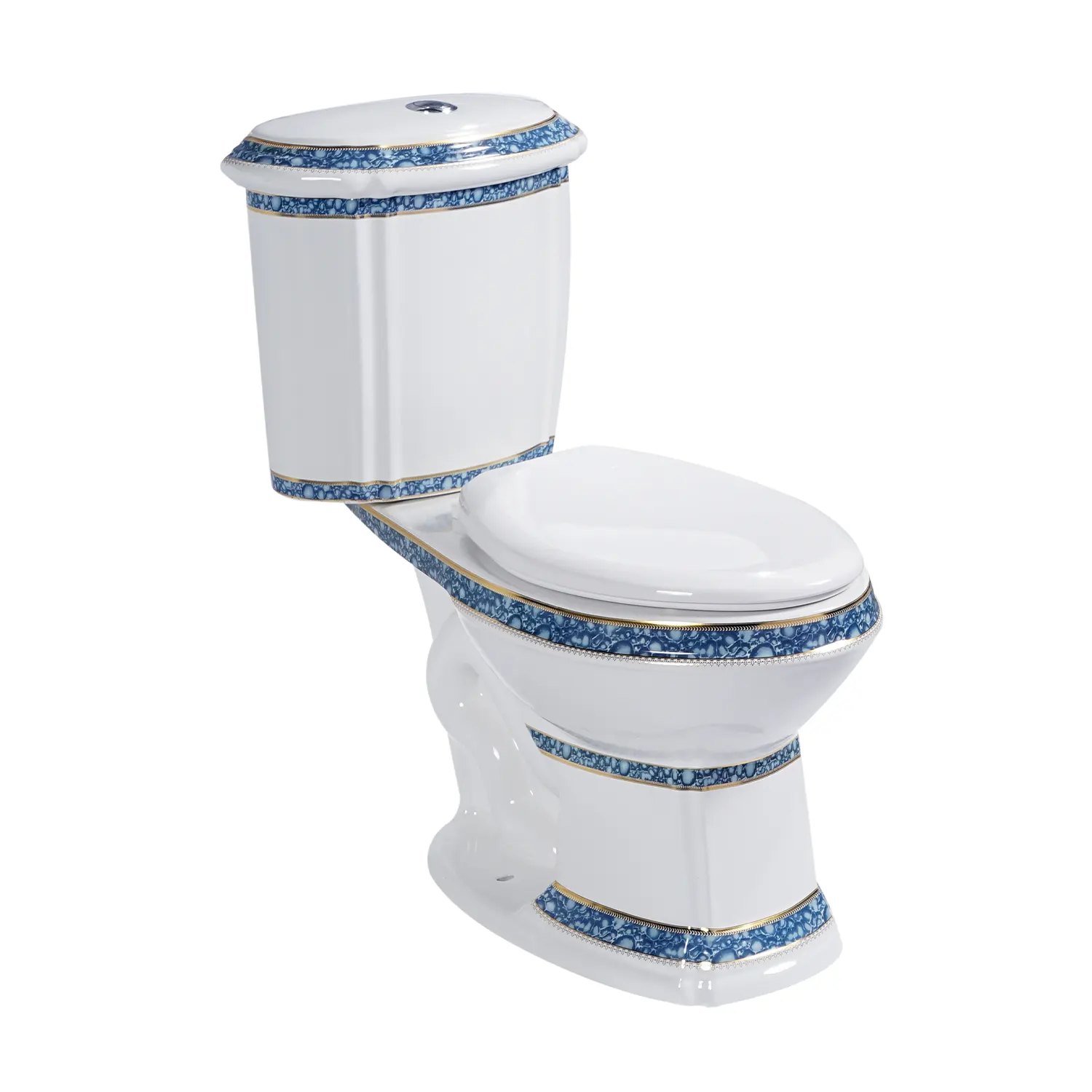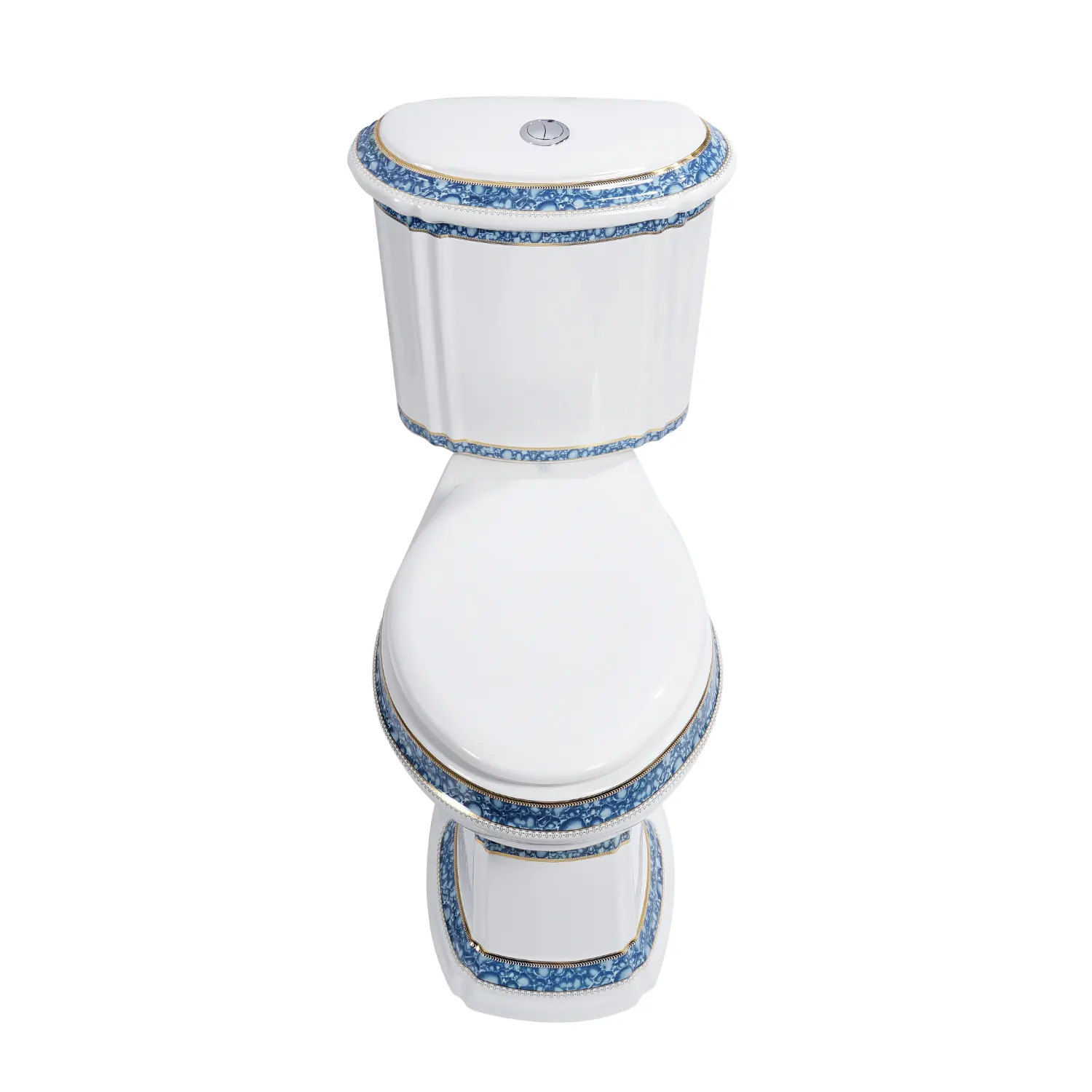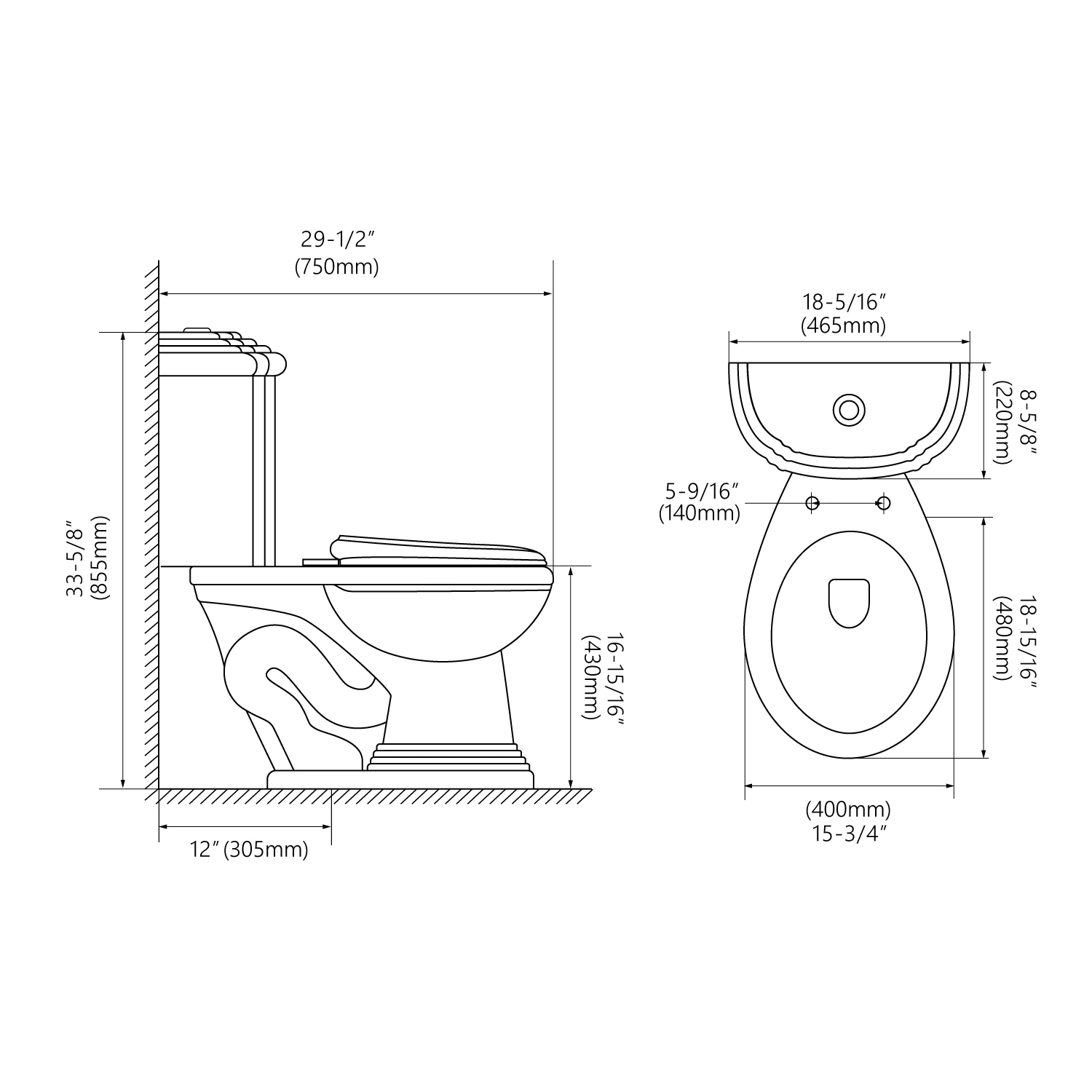 CUPC ASME ADA compliant vintage style classic design blue and gold finish 2-piece close coupled toilet 17.7 in. 45cm seat height Grade-A vitreous china ceramic with slow-close no-slam seat
---
Flush Button :

Top Dual Flush

Side Single Flush
description
This beautiful close couple 2-piece toilet features luxurious blue and gold finish on the edges. The classy, elegant design, with sculpted detailings on the bowl and tank, makes it a perfect piece to complement any vintage bathroom setting. ADA compliant elongated toilet bowl in 17.7'' comfort seat height, with no-slam, soft-closed toilet seat, will create a quiet and comfortable toilet experience.
overviews
Overall Dimensions: 465 L x 750 W x 855 H (mm) / 18.31 L x 29.53 W x 33.66 H (in.)
Constructed from grade A ceramic, scratch and stain resistant porcelain finish for durability and easy cleanup
Available optional accessories: Toilet Bolt Cover, Bowl-to-floor Bolts
Two-piece construction
Eco-friendly toilet that conserves water
CUPC certified,ASME compliant, ADA compliant toilet
Different Flush button options are available: Dual-flush on top or Single-flush on side
Made in China
Luxurious Gold and Blue Finish
Elongated toilet bowl with matching soft-closing toilet seat included.
12" / 305mm Rough-In
430mm / 16.93 in. height from floor to bowl (seat not included)
450mm / 17.72 in. height from floor to bowl (seat included)
ADA compliant toilet bowl height for more comfortable daily use
Fully glazed trapway prevents clogging and provide stronger flushing
Corner tank is available: MA-9939C
Different colors are available: MA-9939-GG , MA-9939
Round shape bowl is available: MA-9937
addtional information
Interested in this stunning product? For more details, Contact us Now!
Interested in our products and want to know more about our products? Tell us a little bit about what you're looking for or how can we help you. Leave your contact info correctly and we'll get in touch within hours.